To my family and friends, it's probably no surprise that Graham and I are not into cooking. There's a lot of reasons for that:
The time and mess involved is just annoying. Spending 30-90 minutes in the kitchen cooking something is time that could be better spent, in my opinion. Given the choice, I'd rather pop a Lean Cuisine in the microwave, or have fast food. And prep work – ugh! Having to chop things and then do all the clean up afterwards is the pits.
So much waste. I can't tell you how many times a recipe has called for some weird ingredient that we only used a tiny portion of, and then ended up throwing the rest away. Even just normal ingredients like eggs and milk are not something we eat a lot of; if I buy a half dozen eggs, chances are extremely high that only a couple will be used. And don't get me started on spices – so expensive, and it seems like most of the time, you just need a small tsp or something and you never use it again.
We've tried so many disappointing recipes. Things that sounded good and were rated well on allrecipes.com and then once made, just were not that good – bland or unappetizing, despite following the recipe carefully. We've thrown away so many leftovers that it just turned me off of cooking altogether for awhile.
Our solution in recent years has been to eat a lot of fast food, frozen dinners, or go out to eat. There's obvious downsides to all of those options – we've been putting on some pudge from eating so much unhealthy stuff. Frozen dinners are quick and easy, but not that great tasting. And going out to eat all the time is expensive!
Other solutions we've tried have been things like Blue Apron and other services like that where you receive the ingredients and then cook the meal. I'm not a huge fan, because the few times we've tried those, the quality of the food was iffy, and half of it was melted or gone bad by the time it arrived in the mail (downside to living in such a warm place, I guess). But then I heard about Dream Dinners, and it's turned out to be perfect for us! (yes, I sound like an ad, but it's true)
What It Is
It's a meal service where they do all the basic prep-work; you pre-order what meals you plan to make on their website and sign up for a specific time slot. Once you arrive at your session, you compile your ingredients in plastic bags following their very clear instructions. Then you freeze that meal and pull it out to defrost a day or two before planning to cook it (there are also at least a couple of meals every month that can be cooked straight from the freezer as well).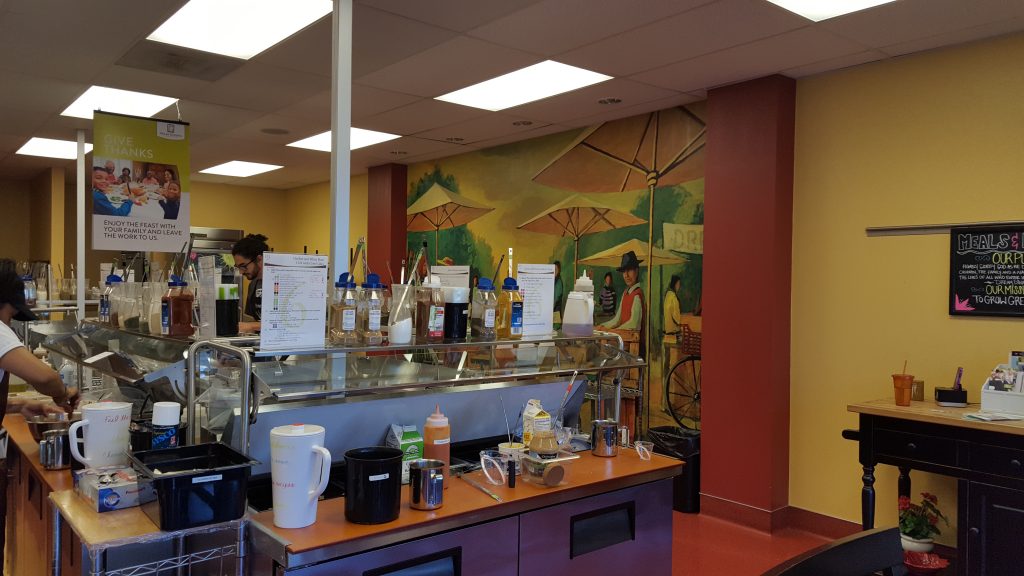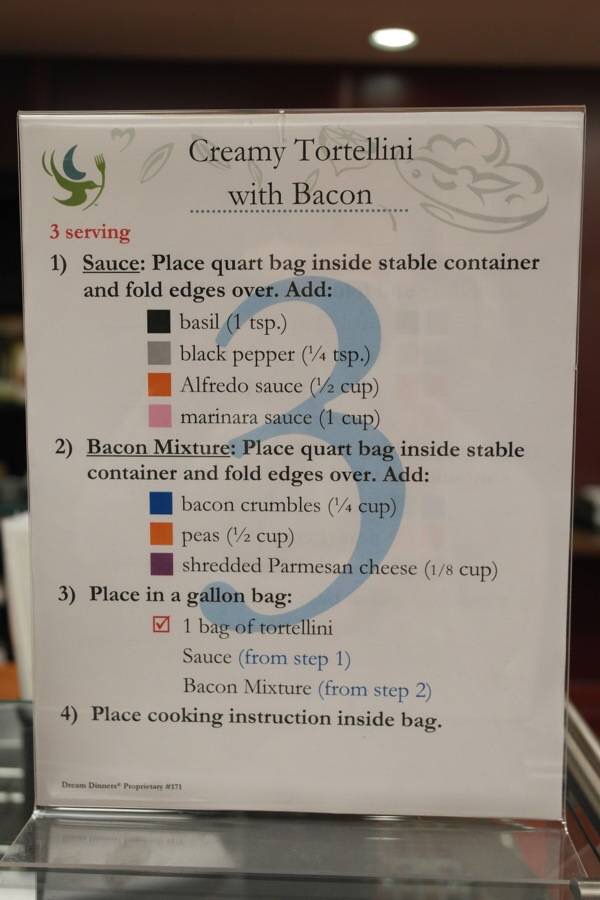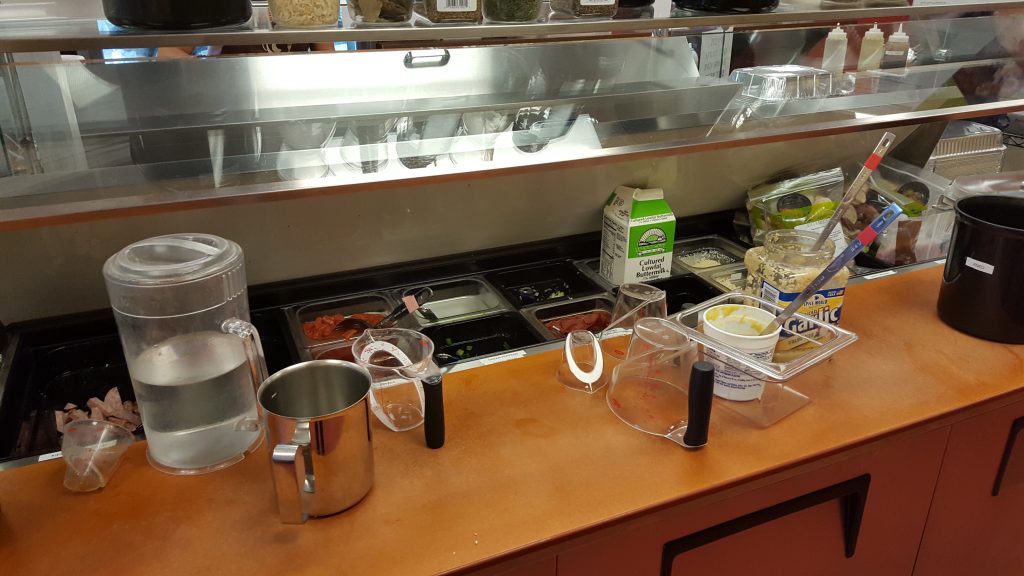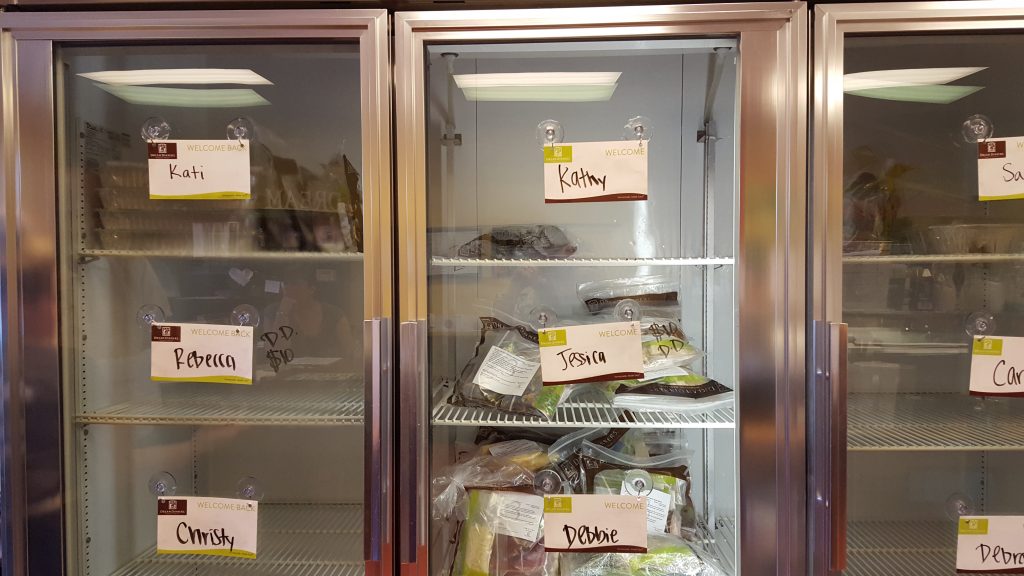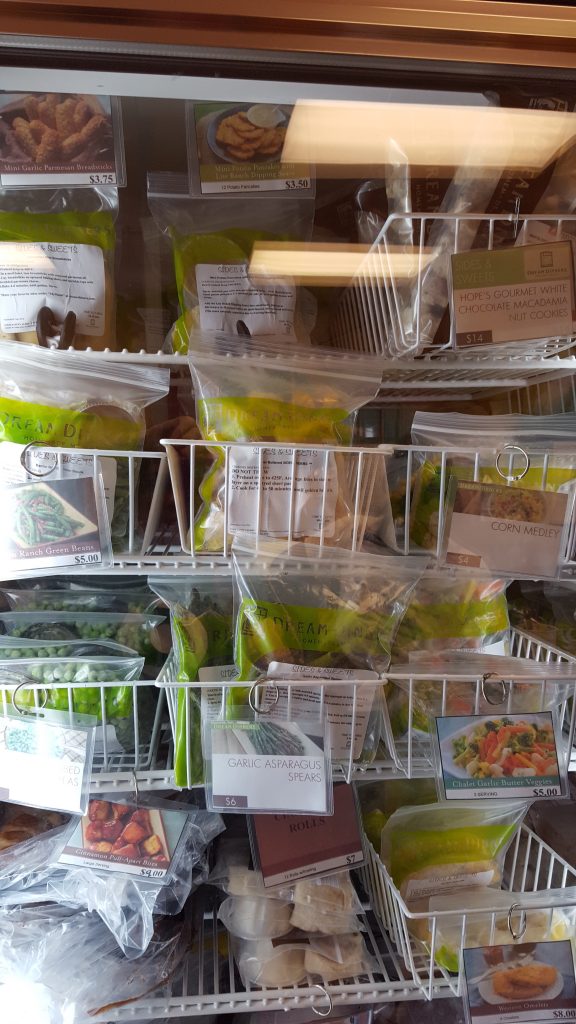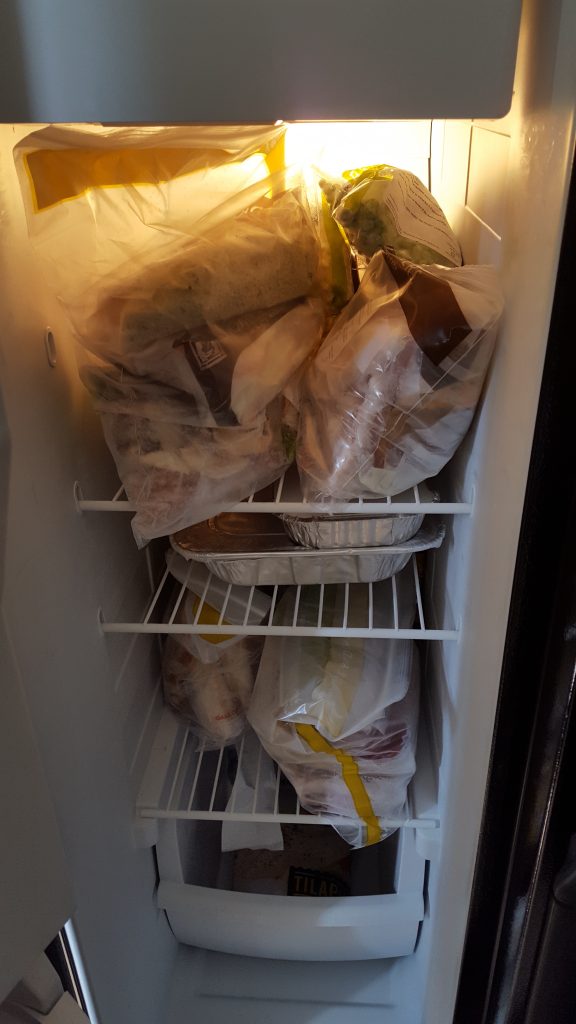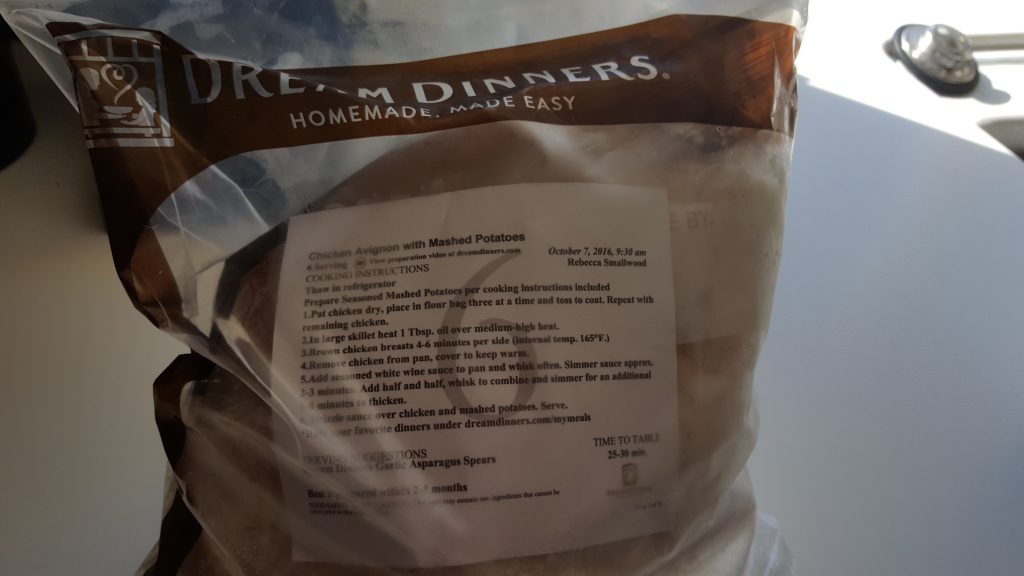 Pros and Cons
This obviously isn't the perfect fit for everyone; I'm just posting about it because it's awesome and I love it – it works well for us. Some pros and cons I can think of for people to consider:
Pros
Reduces food waste, especially when it comes to ingredients.
The food so far has been really great; everything we've had so far has been at least a solid B, and I would rank most of them as As.
Big time saver; initial prep is 90 minutes for all meals combined. Preparation once out of the freezer can range from popping into the oven up to 45 minutes + multiple steps. It all just depends on the individual recipes you pick.
Greatly simplifies meal planning and prep.
Reduced shopping time, now that I don't have to buy dinner ingredients. I buy their scones for breakfast, so dinner and breakfast are covered. All I need to shop for nowadays is lunch and snacks, which is a huge reduction in shopping time.
Decent range of recipes, with a mix of comfort foods, kid friendly, and heart healthy. Menus change every month.
The ingredients so far have all been been of good or high quality.
Recipes are customizable to some extent as you build them in store – like garlic? You can add extra. Allergic to nuts, like me? Leave it out, and so on.
Most recipes have been generous with their portions; it just depends on the recipe. A 3-serving meal of chicken breasts is going to be exactly that; things like pasta and soup dishes stretch quite a bit further, I've found.
If you're unable to come into the store to compile your recipes, they provide a service where they do it for you (for a fee).
They have a rewards program where you earn points that you can put towards purchases of sides or sweets, or just as a discount off your next order.
Cons
The thing you're probably all wondering about is the price. They require a minimum of 36 servings per order, which is generally going to run you $200 – $230, depending on what you order. Compared to what we were spending eating out and on fast food, it makes economical sense for us; if you're a frugal couponer type, then this probably isn't what you're looking for. One of the main reasons services like Blue Apron, Plated, Hello Fresh, etc. exist – despite quite high costs per serving – is because a lot of people do want to cook; they just don't want to have to deal with all the other work/time that is involved. Dream Dinners is one solution that exists as a happy medium; not as cheap as doing all the planning, shopping, and prep yourself, and not as expensive as outsourcing it 100%. It works out to about $6 per serving for us, which is cheaper than Blue Apron or other services we've looked at.
Recipes can vary as far as healthiness and calories. They always have a few chicken dinners that are on the low calorie side, as well as fish, etc. I just wouldn't recommend this service as a weight loss sort of thing; it's not Nutrisystem.
Not all meals come with a side, so you may have to account for that as a cost. They have sides available, but they can be pricey. I usually buy a couple with my reward points,  and also keep a couple bags of frozen veggies as well to make a quick side if needed.
Requires a decent amount of freezer space.
We love the recipes so far, but we're not exactly haute cuisine types or anything 🙂 Don't expect anything wild as far as ethnic cuisine. This is not gourmet food; just a lot of good solid, easy recipes.
Their website kind of sucks. Simply has to be said, and not just because it's my industry – it's a bit clunky and confusing in places.
How to Try It
They have three ways of doing it: the first is the $75 Introductory Offer. If you find a location by you, go to their individual location webpage on DreamDinners.com and look for the introductory menu. This lets you choose from a more limited menu for the month, and get 18 servings for only $75. This is how we started, and I highly recommend doing this, as it's a great intro to the whole idea.
Some locations offer a $25 Dream Taste. My understanding of how this works is that you register for this session type on their site, and when you arrive for it, you will be assembling 3 pre-set recipes (no choice involved). This is a good cost-effective way to try their food and the entire system if you're unsure. To see if your location offers these, you'll have to click around on their calendar to see if any such sessions are listed, or call them.
The third way is to have a friend currently already doing Dream Dinners to hold their own private Dream Taste (still $25). The friend needs at least 4 friends signed up to hold a session like this.
I talked to some of the people that were there in my sessions, and all of them raved about it. Most of them were busy working moms, who just didn't have time to deal with lots of meal prep and planning, and liked the ability to just have a meal or two unfrozen that could be thrown in the oven or tossed together in a few minutes. There were some couples like Graham and myself who liked the ability to have a wide mix of recipes that fit the needs of only two people without having to buy a lot of extra or weird ingredients (a commonly overheard comment at one of the recipe stations was "What the heck is Chervil?") We personally like how it has made cooking a lot easier for us without being as expensive as Blue Apron and other similar services; if you've been eyeing those, I suggest you take a look at this as well, as it has a lot of similar appeals – just done a little differently.
If you're interested in reading more or in signing up, you can go to DreamDinners.com
And hey – if you found this article helpful in making you sign up, then please consider listing me as your referral (it's an option at the very bottom under "Where did you hear about us?") My email is myfirstname.l.mylastname@gmail.com (replace myfirstname and mylastname with the appropriate information. Tip: my name is up at the top of the site. The bit in the middle between the dots is an L.) I'm sharing the info about Dream Dinners because I think it's cool and I wanted to blather about it to the maybe 2 people that know this site exists – but I certainly wouldn't turn down referral points, either 🙂